Authentic 2020 fresh harvest tropical plant Bambusa polymorpha bamboo seeds
Product Description
#detail_decorate_root .magic-0{width:750px}#detail_decorate_root .magic-1{overflow:hidden;width:750px;height:929px;margin-top:0;margin-bottom:0;margin-left:0;margin-right:0}#detail_decorate_root .magic-2{margin-top:0;margin-left:0;width:750px;height:929px}#detail_decorate_root .magic-3{vertical-align:top}#detail_decorate_root .magic-4{vertical-align:top;display:block;padding-right:4px;box-sizing:border-box;padding-left:4px}#detail_decorate_root .magic-5{vertical-align:top;padding-bottom:4px;box-sizing:border-box;padding-top:4px}#detail_decorate_root .magic-6{padding:0;margin:0;white-space:pre-wrap;font-size:14px}#detail_decorate_root .magic-7{text-align:center}#detail_decorate_root .magic-8{font-size:16px}#detail_decorate_root .magic-9{border-bottom-width:2px;border-bottom-style:solid;border-bottom-color:#53647a;background-color:#c5ccde;margin-left:0;margin-right:0;padding-left:8px;padding-right:8px;color:#53647a;font-family:Roboto;font-size:24px;font-style:normal;padding-top:8px;padding-bottom:4px}#detail_decorate_root .magic-10{text-align:justify}#detail_decorate_root .magic-11{overflow:hidden;width:247.33333333333334px;height:247.33333333333337px;margin-top:0;margin-bottom:0;margin-left:0;margin-right:0}#detail_decorate_root .magic-12{margin-top:0;margin-left:0;width:247px;height:247px}#detail_decorate_root .magic-13{overflow:hidden;width:247.33333333333334px;height:247.33333333333337px;margin-top:0;margin-bottom:0;margin-left:4px;margin-right:0}#detail_decorate_root .magic-14{margin-top:0;margin-left:0;width:361px;height:250px}#detail_decorate_root .magic-15{width:750px;border-collapse:collapse}#detail_decorate_root .magic-16{min-height:18px;padding:5px 10px;overflow:hidden;width:201px;min-height:18px;box-sizing:content-box}#detail_decorate_root .magic-17{min-height:18px;padding:5px 10px;overflow:hidden;width:460px;min-height:18px;box-sizing:content-box}#detail_decorate_root .magic-18{text-align:left}#detail_decorate_root .magic-19{overflow:hidden;width:498px;height:320.4220821001158px;margin-top:0;margin-bottom:0;margin-left:0;margin-right:4px}#detail_decorate_root .magic-20{margin-top:0;margin-left:0;width:498px;height:332px}#detail_decorate_root .magic-21{width:248px}#detail_decorate_root .magic-22{overflow:hidden;width:248px;height:158.13223464783204px;margin-top:0;margin-bottom:0;margin-left:0;margin-right:0}#detail_decorate_root .magic-23{margin-top:0;margin-left:0;width:247px;height:165px}#detail_decorate_root .magic-24{overflow:hidden;width:248px;height:158.13223464783204px;margin-top:4px;margin-bottom:0;margin-left:0;margin-right:0}#detail_decorate_root .magic-25{border-bottom-width:2px;border-bottom-style:solid;border-bottom-color:#53647a;background-color:#c5ccde;margin-left:0;margin-right:0;padding-left:8px;padding-right:8px;color:#53647a;font-family:Roboto;font-size:24px;padding-top:8px;padding-bottom:4px}#detail_decorate_root .magic-26{min-height:18px;padding:5px 10px;overflow:hidden;width:222px;min-height:18px;box-sizing:content-box}#detail_decorate_root .magic-27{min-height:18px;padding:5px 10px;overflow:hidden;width:452px;min-height:18px;box-sizing:content-box}#detail_decorate_root .magic-28{vertical-align:top;display:inline-block;padding-right:4px;width:33.333%;box-sizing:border-box;margin-bottom:-4px;padding-left:4px;margin-top:-4px}#detail_decorate_root .magic-29{vertical-align:top;box-sizing:border-box;padding-top:4px}#detail_decorate_root .magic-30{padding:0;margin:0;color:#333;font-size:14px;white-space:pre-wrap}#detail_decorate_root .magic-31{padding:0;font-size:16px;line-height:20px;font-weight:bold;color:#333;margin:0}#detail_decorate_root .magic-32{margin:0;padding:0}#detail_decorate_root .magic-33{overflow:hidden;width:750px;height:861px;margin-top:0;margin-bottom:0;margin-left:0;margin-right:0}#detail_decorate_root .magic-34{margin-top:0;margin-left:0;width:750px;height:861px}#detail_decorate_root .magic-35{overflow:hidden;width:750px;height:400px;margin-top:0;margin-bottom:0;margin-left:0;margin-right:0}#detail_decorate_root .magic-36{margin-top:0;margin-left:0;width:750px;height:400px}#detail_decorate_root .magic-37{margin-bottom:10px;overflow:hidden}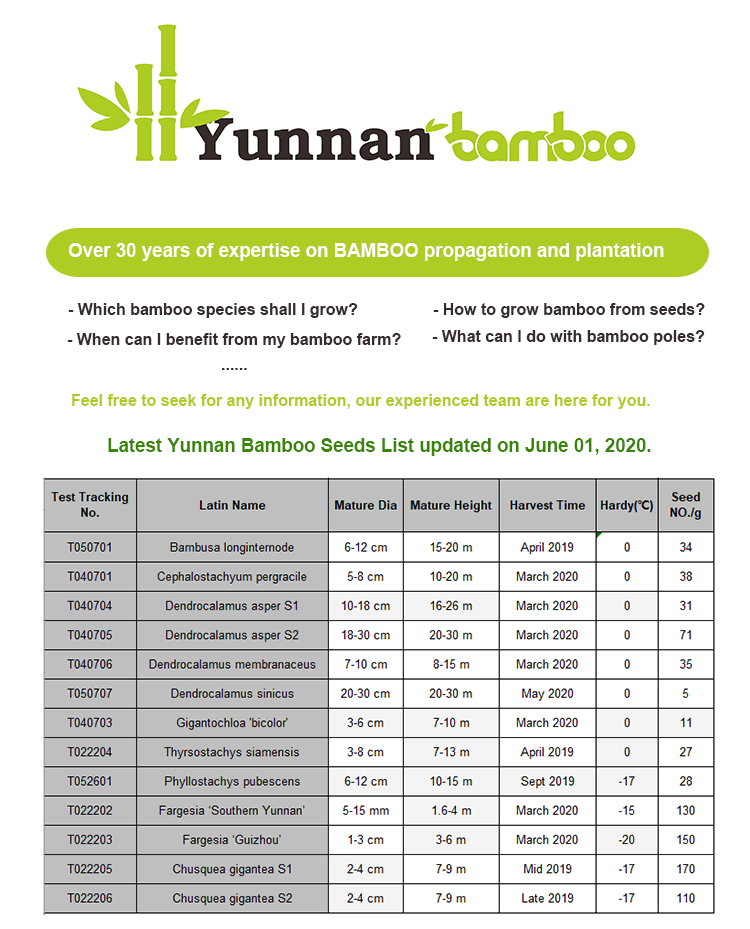 For most species our MOQ is 50 grams/bag. We do offer sample package for new clients, kindly click here for our
bamboo seeds
sample package. Products Description Bambusa polymorpha is a bamboo with many uses. Culms are used for house construction, woven matting, baskets, furniture,handicrafts, and as a raw material for paper pulp and board making. This bamboo produces edible shoots with a distinctly sweet taste. It is also a graceful species suitable for landscaping. Unfortunately we were not able to get fresh harvest of Bambusa polymorpha seeds in 2020. We keep a small stock from 2019 for passionate collector only. Its germination rate in April 2020 was 24%.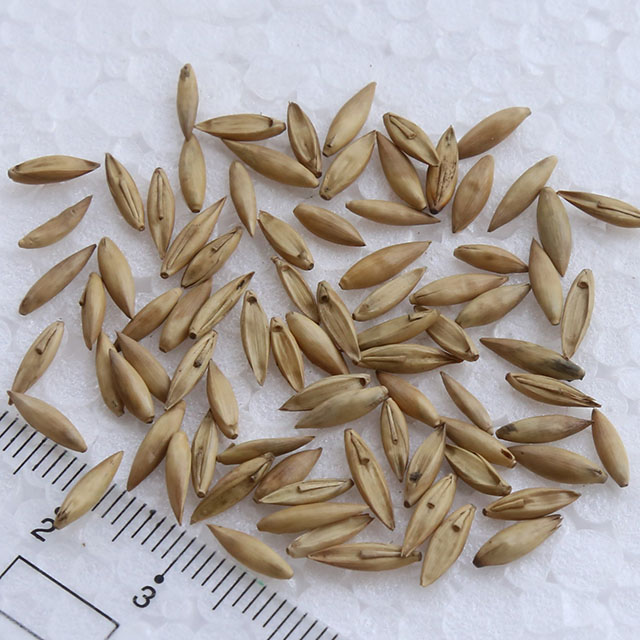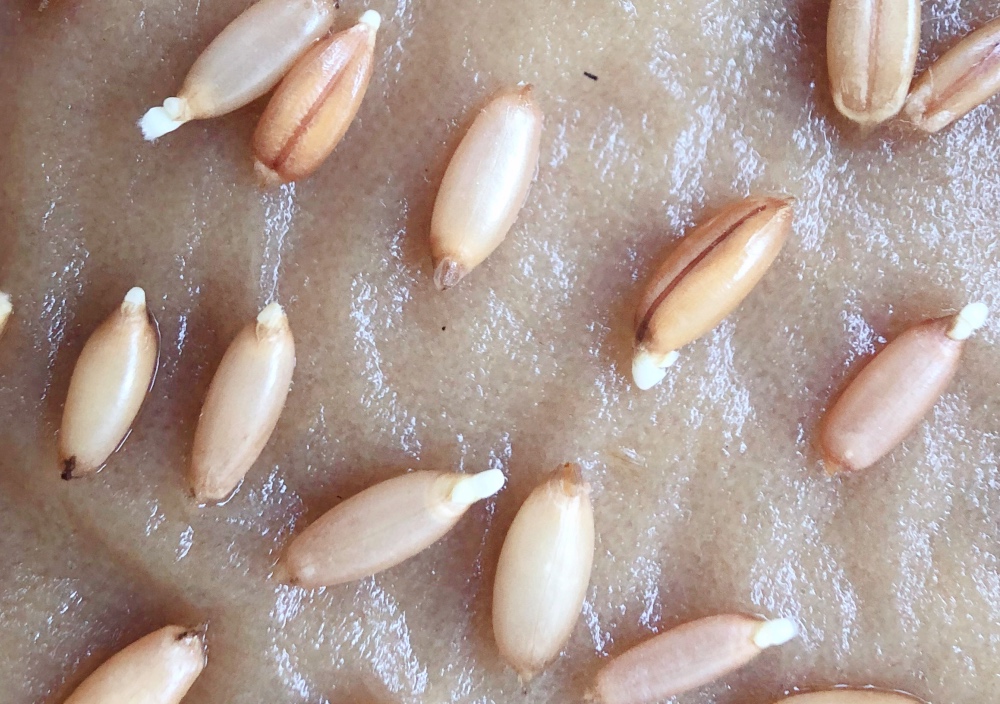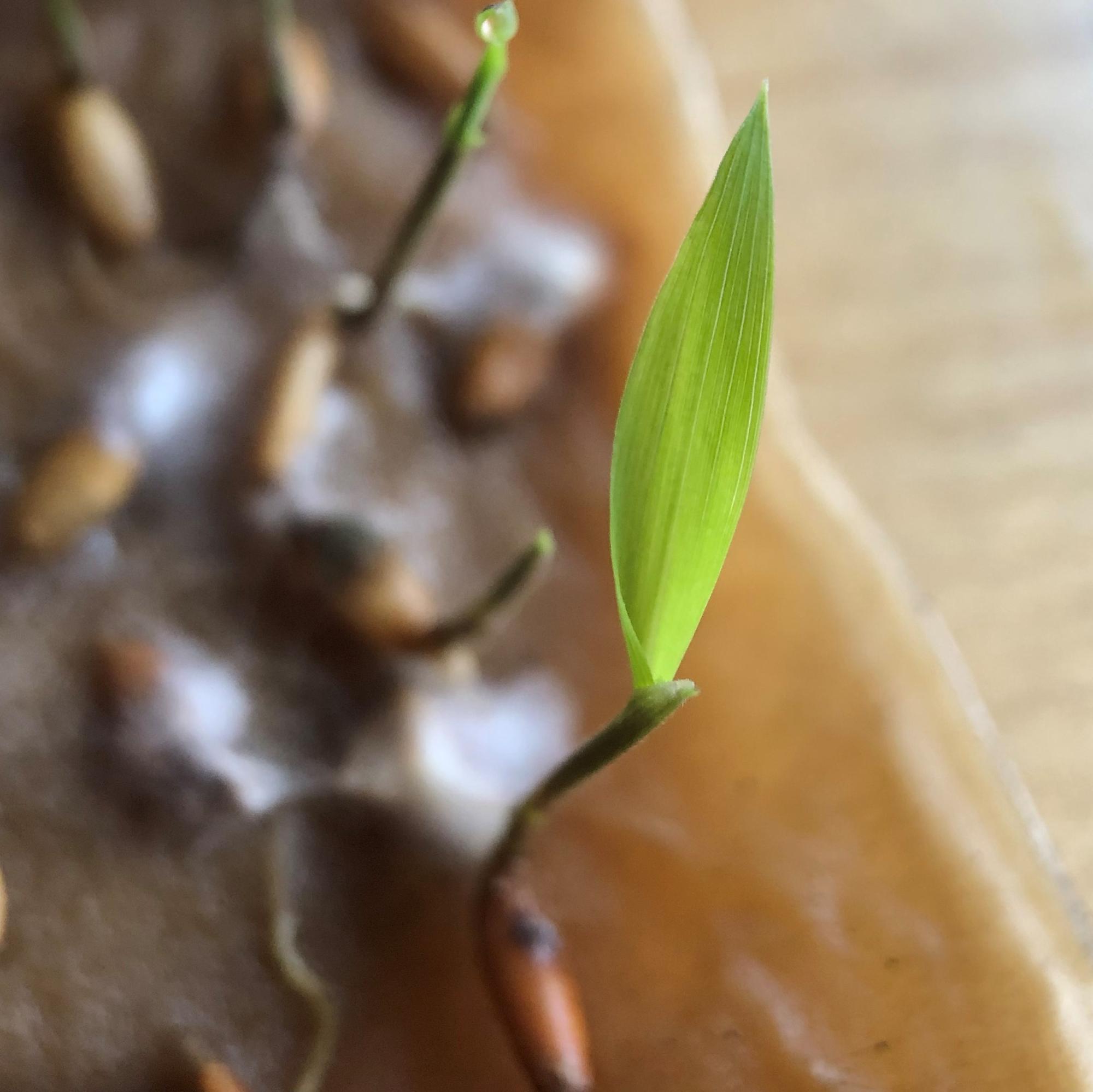 | | |
| --- | --- |
| Seed collection time | April 2019 |
| Seed collection location | Yunnan China |
| | 6-8 mm long, 2 mm wide |
| Weight of 1,000 seeds | 15. 2 grams |
| Germination rate | 24% (April 2020) |
| Shelf life | 2 years |
| Germination temperature | 20-30 centigrade |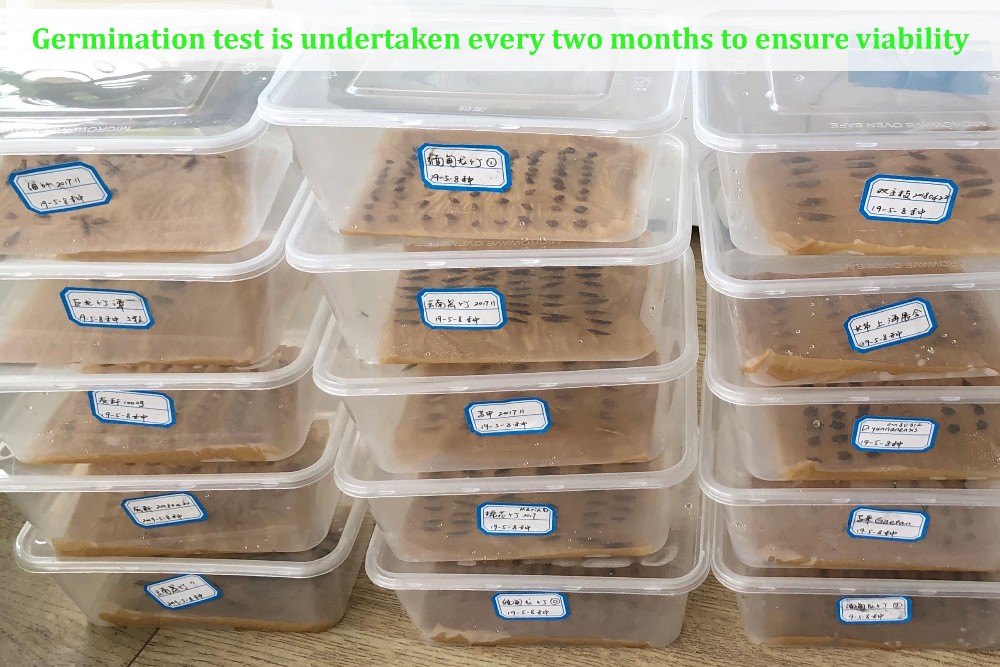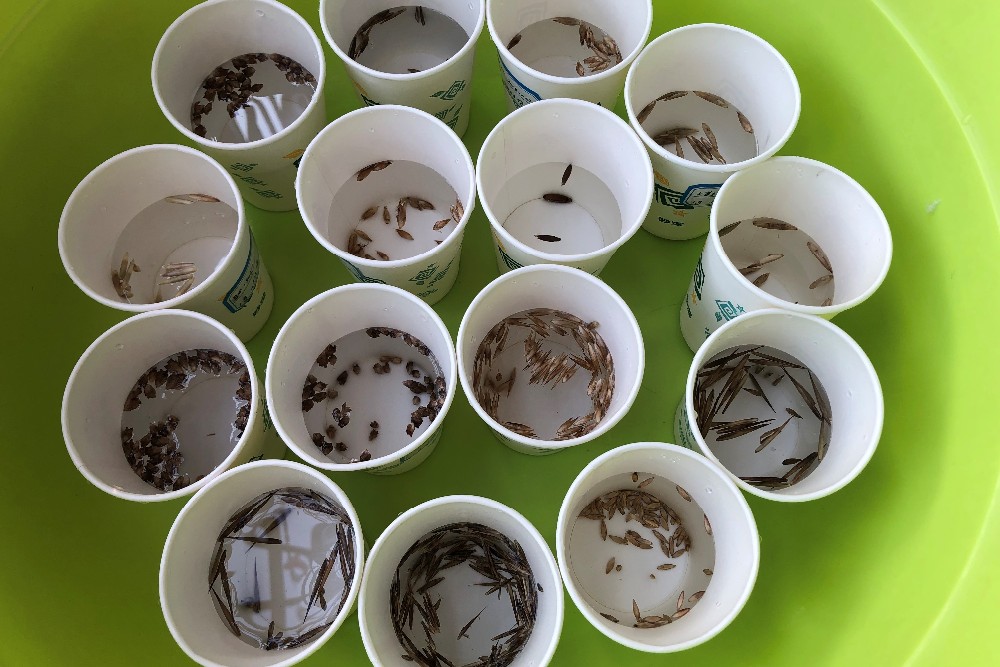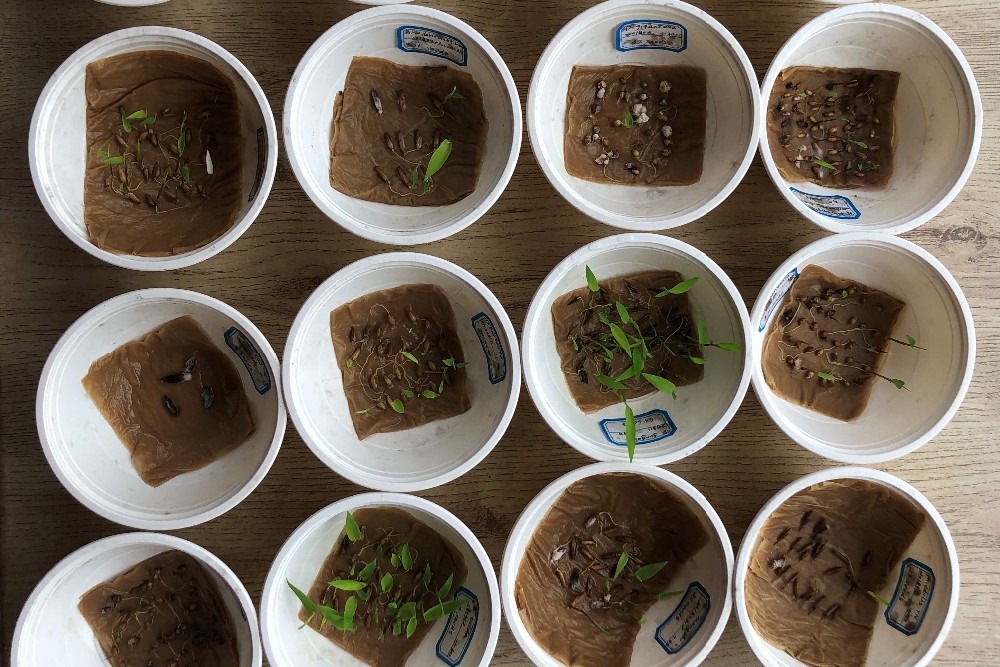 Species description
| | |
| --- | --- |
| Latin Name | Bambusa polymorpha |
| Common name | Grey bamboo |
| Mature size | 7-15 cm in diameter, 15-20 m in height |
| Growth habit | clumping (non-invasive) |
| Climate zone | Tropical, South subtropical |
| Main application | Landscaping, Construction, pulping, biomass, charcoal, etc |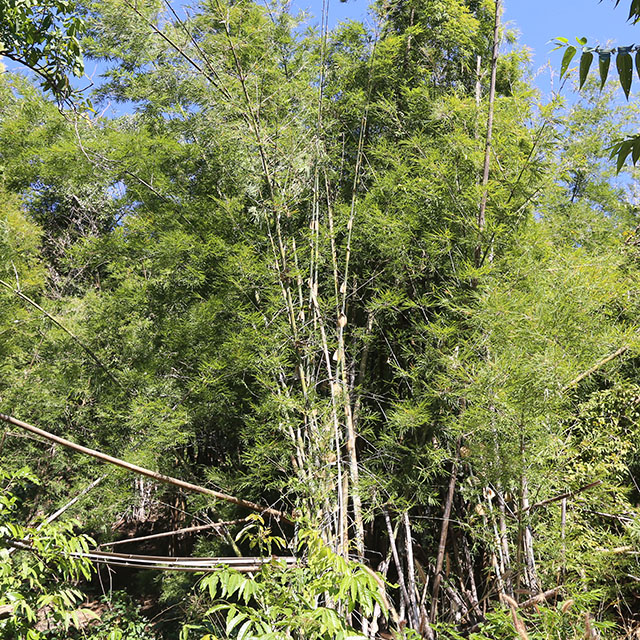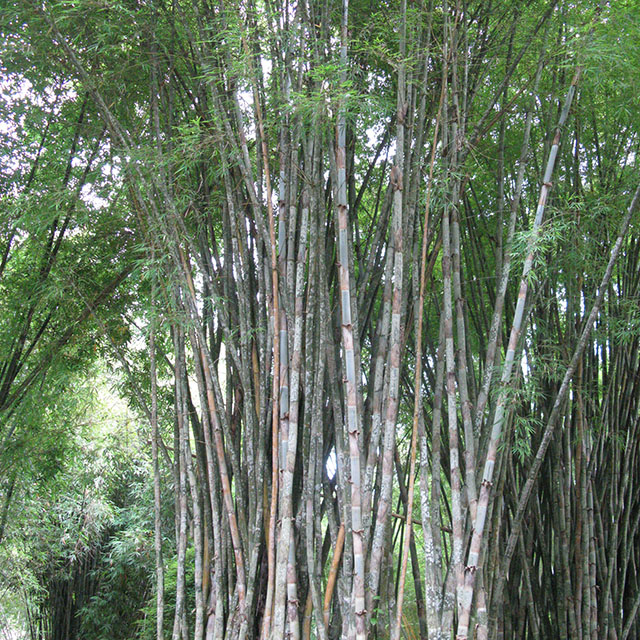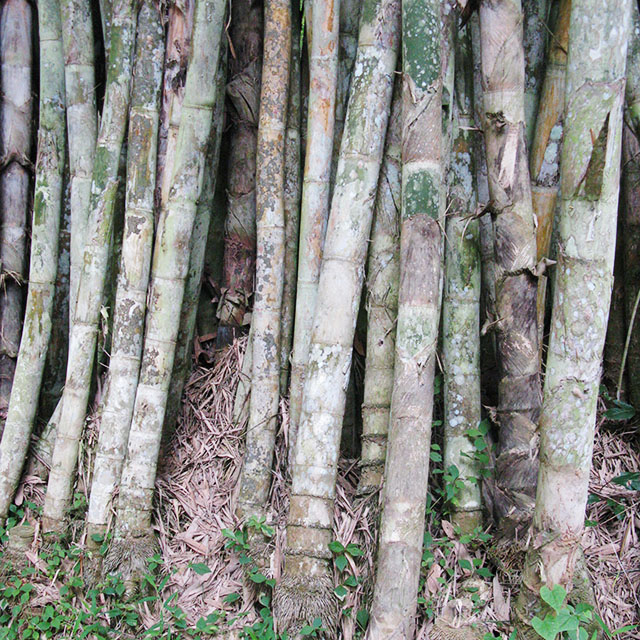 Our advantages Specialized on BAMBOO - over 20 years experience on bamboo propagation & plantation;
- knowledge on bamboo species all over the world, not only from China;
- Largest bamboo seed supplier in the world
High quality seeds.  - expert team for identification
- professional cold storage
- germination test every 2 months
Rich experience.  - Assist clients to choose the right species and grow in the right way
- world-wide deliveries knowing each country's import rules
- one-package solution from growing-processing-marketing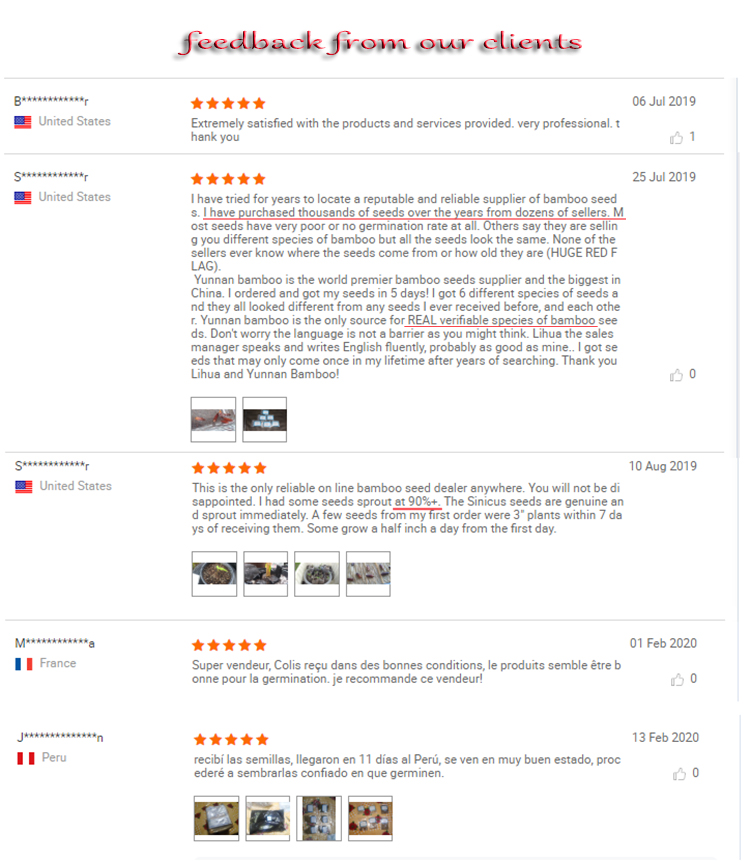 Why Bamboo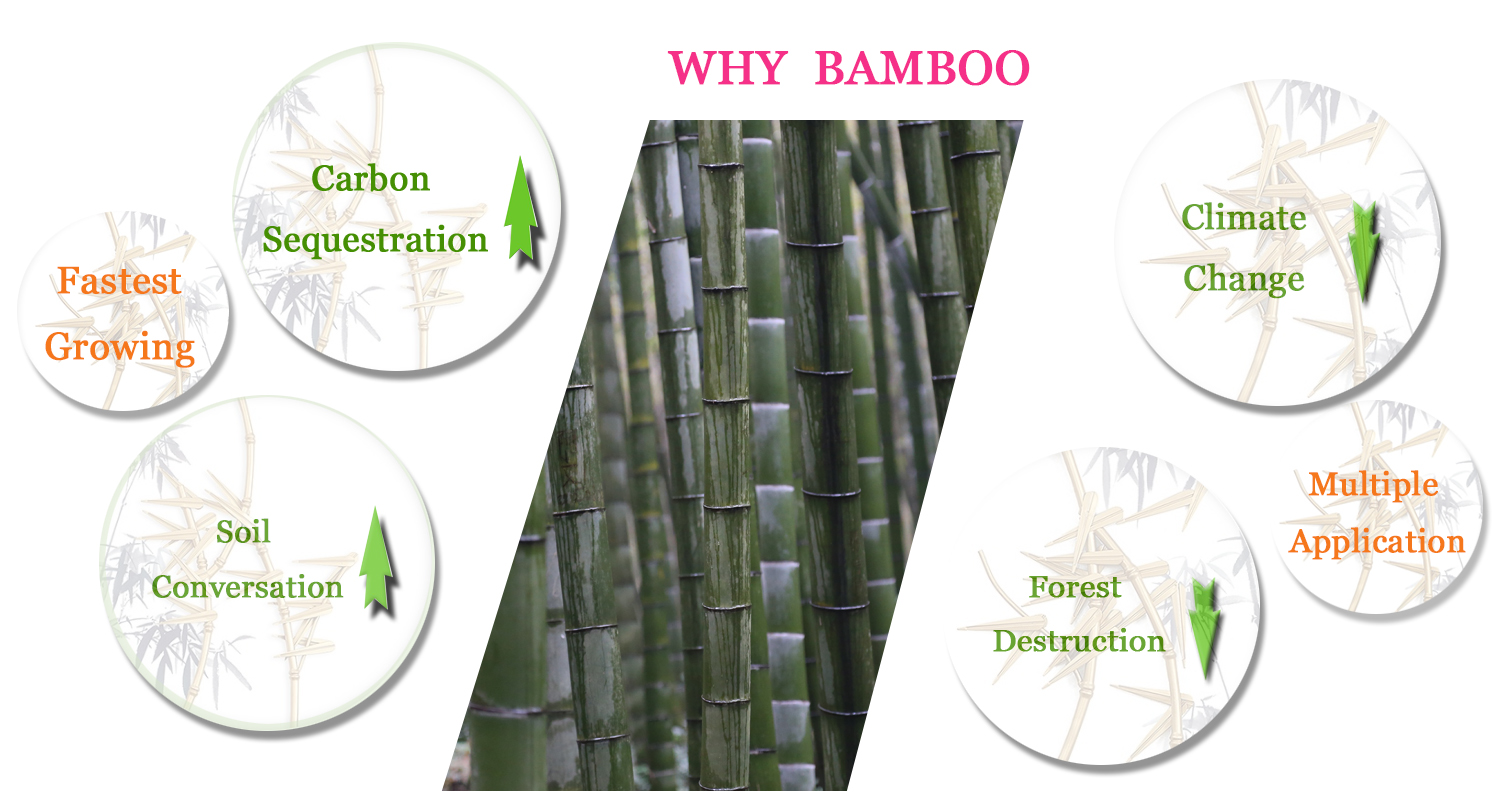 FAQ 1- Why bamboo seeds are so expensive?
Bamboo seeds are very rare. Most bamboo species flower every 60-120 years and most of flowering cannot produce fertile seeds. Each year we spend a lot of time traveling to different places to search for flowering clumps and possible seed sources. This is costly and most of time no seeds can be obtained.
2- Can you guarantee viability of seeds?
Yes, we guarantee viability of our seeds by testing germination every two months. Our rich experience on seeds enables us to know shelf life of seeds soon after we see the seeds. We know hard hard it is to find bamboo seeds, so we will never ever keep seeds for too long. We will sow all seeds in our own nurseries before they die.
3- Can you provide Phytosanitory Certificate?
Yes, We provide Phytosanitory Certificate at cost of 35 USD for orders below 1,000 USD. If total seed value is above 1,000.00 USD, Phytosanitory Certificate is offered free. But we need to get such requirement before delivery. If no extra requirement received, we will send seeds without Phyto Cert.
4- Do you have instruction on how to germinate seeds?
Yes, each package will be enclosed with our instruction on germinating seeds.
5- What if the seeds I receive cannot germinate?
This seldom happens if you follow our germination instruction. When you receive our seeds, please follow our instruction and do a germination test for a small amount and take photos. If the seeds turn out not viable, we will refund your money or send you new seeds.
6- What if my package is stopped by customs?
This does happen when the buyer cannot provide proper import documents and the risk is at the buyer. If the seeds are returned back to us within one month, we will refund seed value (not shipping cost that already occurred).
If you have any other questions, please free to contact us.
Contact us if you need more details on bamboo seeds. We are ready to answer your questions on packaging, logistics, certification or any other aspects about Autentica cosecha fresca de 2020 planta tropical Bambusa polymorpha semillas de bambu semillas de plantas、bambu tohum sementes de bambu graines de bambou. If these products fail to match your need, please contact us and we would like to provide relevant information.
Product Categories : bamboo seeds